ABC or American Broadcasting Company is one of the most popular streaming channels. Most streaming lovers at least enjoyed ABC once. It doesn't matter what kind of content you like, ABC has it. That's why people love it. That's why we recommend it to you.
ABC is famous for many things. And on the top of it? It produces only premium content just for its viewers. It means ABC knows what you want to watch. Instead of making content they like, they create contents they know you'll like. Simply put, they have a show for everyone. No matter how you describe a quality content, there is always one on ABC.
Award-winning shows? That's quite common on ABC. Popular movies? Even more. They  literally have everything there. Unlike CinemaNow, they even get their own original series. From Modern Family to Sabrina: The Teenage Witch. From Power Rangers to Lost and Desperate Housewives. These series alone have millions of view around the globe.
Everyone is special to ABC. Everyone has their favorite content on ABC. Grey's Anatomy, Scandal, Castle, Once Upon a Time, Revenge, Marvel's Agents of S.H.I.E.L.D, The Neighbors, Nashville, and The Middle are just a few examples of them. What about sport lovers? Don't worry. There are always quality sport contents on ABC. Monday Night Football, for example, will stream you live match from the arena. There's nothing to worry as long as it is ABC.
Seems too perfect?
Well, you're right there.
There is something you won't like about ABC. Their contents are geo-restricted. That means there is only one way you can enjoy ABC. You must be in "the United States or its territories."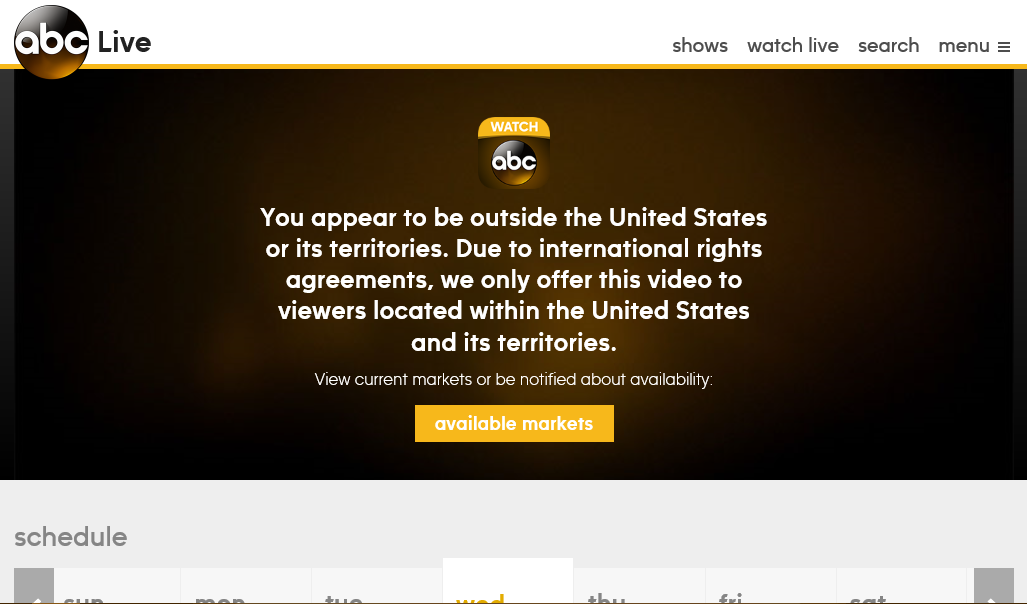 How to Watch ABC from Outside the US
That's the bad news. And as always, there's something we can do about this. Things can't stay 'restricted' forever. If only we know the way, which we are, we can unblock ABC and watch it.
And that way is, VPN Asia.
Why VPN Asia? Why not any VPN?
Simple. Because we concern about you. We concern about your streaming experience and privacy. We want you to taste the true taste of flawless, worry-free streaming experience. We want to give you the peace of mind while watching your favorite movies. And VPN Asia is the only way to get that pleasure.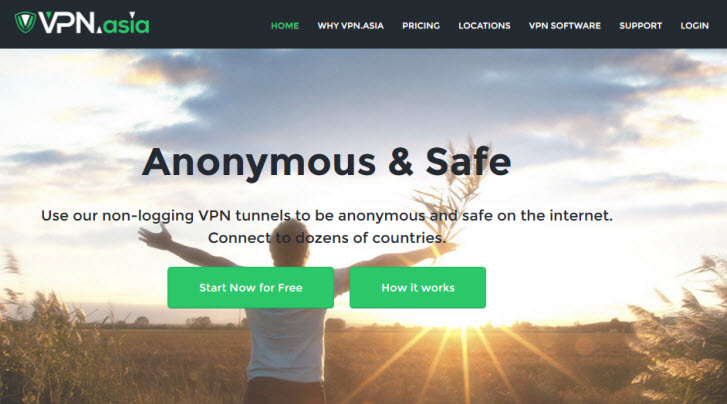 Can VPN Asia really give that pleasure?
Sure. VPN Asia comes with a bunch of cool features any movie lover won't miss. And here they are.
Streaming video
No more geo-restricted content. With VPN Asia, you can enjoy ABC anytime from anywhere. Plus, no more lag. We'll give you unlimited bandwidth so you can enjoy any content flawlessly.
Keep your ISP away
Don't let your Internet Service Provider (ISP) spy on you or throttle your speed. They will just ruin the whole thing while you're enjoying your favorite content. With VPN Asia, we'll give you an anonymous IP every time you log into our server. Nobody will be able to see you and things you're doing online. Not even your ISP. For this, we got more than 24,000 IPs just for you.
No more hacker
Hackers are everywhere. They are always there, on the web, waiting for their victim. They are waiting for the perfect time to attack you. While you're watching your favorite content on ABC, they might be also there to attack you. Come without protection, and your system will be their next target. Everything you keep and protect carefully will be theirs. Everything you don't want other people to know, they'll leak it online. And your PC? They'd plant malicious app in it, so they can monitor everything you do since the attack. Nothing will survive. Not you, your data, or your device.

Those things won't happen if you have VPN Asia. To ensure your security, we'll secure your connection with the latest encryption technology. From PPTP, L2TP, and Open VPN (TCP/UDP), we will always protect you on the web. We'll provide you with a system no hacker can breach. Not a virus, malware, ransomware, adware, or any malicious app can enter your device, sneak, or disrupt your online activities. With us on your side, you eliminate any opportunity for anyone to hack you. 100% hacker-proof.
Anonymous sign up and use
We want you to enjoy watching your favorite ABC content. We want you to get this pleasure. However, this is not the most important thing to us. For us, it is all about your privacy. We keep you private not only while on the web, but also during the registration. You only need to tell us your name and choose your preferred payment method. Nothing else to tell us to get your VPN Asia account. On top of that, no personal information will be stored in any of our servers. You'll always be the only one who knows everything you provide to us. No one else.
While you're online, we keep non-logging policy. That means, we don't keep any log about your online activities. Even if you visited torrent websites after watching ABC, Unlike some VPN providers, we want you to be 100% private and secure on the web. Nothing should bother you, not even us. No more seeing your private information leaked online. What we give to you is the true meaning of privacy.
Mobile ready
Our client is ready for mobile! Click here to download our latest client for iPhone or here for Android. Our app has been adjusted to protect your privacy and security.
Worldwide servers
Today, we have more than 299 servers running in 2o countries. For fastest and reliable connection, we recommend connecting to our US servers. This way, you can enjoy your favorite ABC content with no lag and location error. Enjoy!
Service guarantee
Disappointed with our services? Don't worry. We are always here to help. Contact us and you may get your money back.
Popular Contents on ABC
Dancing with the Stars Season 22
ABC has announced the new season for Dancing with the Stars. Fans are waiting for it and so should you. This season will feature Dough Flutie, Mischa Barton, Geraldo Rivera, and Marla Maples. Like the previous seasons, every dancer will be performing their best. Amazing performances are waiting for you. Also, in this special season, Sliwinska will mark her coming back. She was in the first 10 seasons of DWTS. And in this season, she is going to rock the world.
Don't miss this season. Watch it live on ABC by using VPN Asia.
Modern Family
Rated 8.7 on imDB, Modern Family is an ABC show you should never miss. The story is about 3 families and their encounters. Each family is so different compared to the others. Yet, they are somehow related in many ways. This sitcom stars Sofia Vergara, Ed O'neill, Ty Burrell, and Julie Bowell.
PS : Get ready to LOL!
Castle
This TV show tells the story of Richard Castle. His job as a mystery novelist makes him friends to crime scenes. Investigating murders is part of his life. But, this time, it's going to be different. People are being killed. And the killer is still a mystery. The only thing the police and Castle know is this. He/she emulates plots of Castle's novels. Who is the killer actually? Why did he choose to act that way?
iMDb: 8.4 stars
Featuring: Stana Katic, Nathan Fillion.
Revenge
The title tells it. This is a story about a daughter's vengeance. She spends her life to find those who framed her father. For them, there will be no mercy. Her actions finally lead her to one place: Hamptons Society. In this place, she struggles to find the evil mastermind.
iMDb: 8.1 stars.
Once Upon a time
This one is for you, fairy-tale lovers! Yes, you heard it. The story is made to play with your creative mind. It tells about a girl's life. After spending a not-too pleasant life, her fate brought her to New England. The town she lives is just another interesting part of this show. Town of Storybrooke, where fairies have been transported from their world. Under a very powerful curse, any memories of their past were wiped out. Watch how they live in this situation. Only on ABC.
iMDb: 8.1 stars.
Scandal
Ever wonder life of someone inside the White House? Scandal is a movie about a White House Communications Director. She just decided to quit her job. Like other people, she dreamed about building her own career. So, she decided to start her own crisis management firm. It was smooth at first. But, moments later, the enemy started coming. Not physical enemies though, but her past. It haunts her life and career? Will it stop? Find the answer on Scandal. Only on ABC.
iMDb: 8 stars.
Conclusion?
ABC, by any mean, is one of our favorite streaming channels. Their quality and various contents are just two reasons among so many others to choose this platform. Whoever you are, you certainly have something to love on ABC. That's why people love it. Why we hate it? Because even ABC apply geo-restricted content. Some, or at least most of them, are available to selected regions only.
If you don't live in the US or its territories, this is a bad news. You won't be able to stream from ABC. There won't be any TV show, movie, documentaries, or anything else. Unless, you got VPN Asia.
Why VPN Asia?
Because VPN Asia is your best, most secured, and private way to bypass any geo-restriction. Everything you dream about privacy and security is already inside VPN Asia.