It happens! Netflix is now EVERYWHERE! The world-famous streaming service is now available in more than 130 new countries. This amazing news was announced during a keynote during CES by Netflix Chief Executive and Co-founder, Reed Hastings.
Jan 6, 2016. A special date to remember for all Netflix lovers. "Today, you are witnessing the birth of a new global Internet TV network," said Reed. "With this launch, consumers around the world — from Singapore to St. Petersburg, from San Fransisco to Sao Paulo — will be able to enjoy TV shows and movies simultaneously — no more waiting. With the help of the Internet, we are putting power in consumers' hands to watch whenever, wherever, and on whatever device."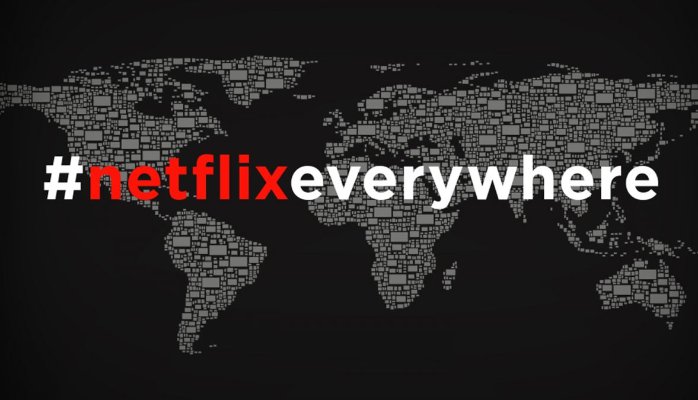 A Killer Solution from Netflix
Netflix is unique. You don't need reasons to love Netflix. Once you watched it, you will just fall in love with it. Netflix has every reason you need to love its program. Plus, you can watch all Netflix original series. You must have heard about the new Marvel's Daredevil, haven't you? What about Jessica Jones, Grace and Frankie, Narcos, Marco Polo, and Sense 8? All these amazing movies are only available on Netflix!! Also, there are thousands of world-class movies and TV shows waiting for you there. Everything is made just for you.
Feel that's enough for you? Well, that's not how Netflix works 🙂 This year, Netflix has prepared some amazing gifts for you. Join Netflix this year to get these amazing gifts:
31 returning and new original series
24 original documentaries and feature films
lots of stand-up comedy specials
30 original kids series
That's pretty massive and I bet you love it 🙂
What about the language?
This might be a little problem. You see, Netflix may have been 'everywhere.' But, not the languages it supports. Currently, you can only choose among 22 languages. But, the company brought a hope about this. Reed Hastings said this to us.
"From today onwards, we will listen and we will learn, gradually adding more languages, more content, and more ways for people to engage with Netflix. We're looking forward to bringing great stories from all over the world to people all over the world."
See? That's what we call hope. That means one thing. In the future, Netflix will be completely for everyone. No matter which language you speak, you can enjoy Netflix. There won't be a place where people can't enjoy Netflix. That's what we like from this service. That's why we recommend it for you.
There is just one bad news. For this, we truly feel sorry. Netflix is still not available in China. The company did their best to reach people in China. However, sometimes, not every government comes with good political will. Sometimes, government is not seeking for the good of their people. Sometimes, it is just a bad political relationships between countries that sacrifice their people. In this case, some people can't enjoy Netflix because their governments are not in a good relationship with American companies. So, we feel sorry for them. It is not just Chinese. People in Syria,  North Korea, and Crimea also on the same path. When will the service available? We don't know it. But, we do expect for the best. Everyone deserves for the best. If that means Netflix, then it must be done. Governments must re-consider their state. It is just like our freedom. If our government really cares about us, they must seek what we love 🙂
Always Mobile? Then, You'll Love Netflix
If there is a better way to watch your favorite movies on the go, it will be Netflix. Let me tell you the fact. There are tons of movie streaming out there. But, lots of people fall in love with Netflix. Why? Because Netflix has the best way to stream your favorite movies on the go. You can bring Netflix with you. Wherever you go, your favorite movies will be at your side. You can play Netflix at your PC, smartphone, tablet, Smart TV, and even game consoles.
But, is it the only reason?
I am sorry. But, I must disappoint you again. See, if it was the only reason to love Netflix, the company won't be as famous as now. There is another reason. This one is about quality streaming.
Netflix is different. Let me remind you that. Other streaming services may not care about their streaming service. But Netflix do. Netflix streams their programs based on your available bandwidth. Also, you can choose your preferred quality. Currently, the service supports from SD to HD. Some movies are even available in Ultra HD 4K.
What about the sound?
Trust me. You will love this. Netflix comes with Dolby Digital Plus 5.1. surround sound. Can you imagine it? A powerful sound surrounding you. A perfect sound that will boost your watching experience. Combine it with world-class streaming quality. Finally, what you get is the best streaming ever. And that comes from Netflix.
Wait…..
Do you think Netflix is not good enough?
Well then. Why don't you try Amazon TV? Or DisneyLife? We can unblock it for you!