There are lots of great shows on the web. The only problem is sometimes they are only available on certain locations. In other words, unless you currently reside in that area, you won't be able to watch those shows. Well, except you know some magic tricks to undo it. Let's take Amazon Fire TV for example. This small box allows you to watch lots of great shows by connecting your TV to the web. While not all contents are geo-restricted, you need to be a US resident if you want to taste the real experience of Amazon Fire TV. Unless, you know how to unblock Amazon Fire TV 🙂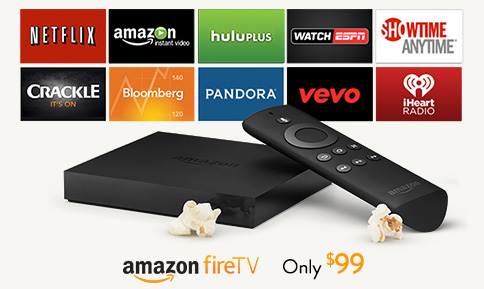 Don't worry. We'll teach you how to unblock Amazon Fire TV. Once you did that, you will have access to the following channels:
Netflix
TV
All Fitness TV
Flixter
Plex
Daily Burn
How to Use VPN Asia to Unblock Amazon Fire TV
We can help you. As the world's #1 non-logging VPN application, you can trust us to unblock any content and website on the web, including Amazon Fire TV. Allow us to unblock Amazon Fire TV and provides you access to any show you want to watch. While watching the shows, you'll remain anonymous and safe on the web. There won't be any privacy leak, security hole, low quality streaming, lags, and buffering.
So, are you ready to unblock Amazon Fire TV? Then, check out our tutorial.
Log into your Amazon account.
Choose "Your Account"
Choose "Manage Your Content and Devices"
Choose "Country Settings"
Select "United States"
Provide a US address (fake one will also work) in your account
Flash your router (for this tutorial, we use DD-WRT router as our test subject. You can skip this part if your router is a DD-WRT router). We recommend using this router because it's free and compatible with most routers (from more than 90 manufacturers). You can also find lots of online tutorials on it, which is perfect for first-timers. Please be careful as flashing is a very sensitive process. Even the tiniest bit of carelessness may turn your router into a useless device. As for the flashing mechanism, you can flash your router in 3 ways: (a) web-based graphic user interface; (b) trivial file transfer protocol, and; (c) command line. Choose carefully before you can unblock Amazon Fire TV.
Once done, plug the ADSL wire into your Amazon Fire TV WAN port.
Next, plug your HDTV wire to one of the Amazon Fire TV available LAN ports to unblock Amazon Fire TV. This will allow you to turn the router into a mediator between your ADSL and HDTV.
Make sure you have a reliable and fast VPN connection. Don't mind contacting us if you need assistance during this process.
Open the router Control Panel from your Amazon Fire TV and provide all necessary details (your VPN Asia account and server details)
Once done, System Information will appear. Make sure the router receives the correct LAN IP and WAN IP.
Next, open the "Setup" tab and choose "Basic Setup" sub-tab
When required, configure your Domain Name, Host Name and Router IP
Choose your "Connection Type" and identify whether your router will connect using DHCP or not.
Provide your Username, Password, and Gateway.
Choose "Apply Settings" and "Save"
Open the "Status" tab and choose "WAN" sub-tab
Check your "Login Status" and select "Connect"
Reboot your router
That's how to unblock Amazon Fire TV. Once you rebooted your device, you'll be able to watch any show you like 🙂
Amazon Fire TV: All-in-One, World-Class TV Entertainment Solution
It took only a few months before this TV set change the way we watch TV shows. It's no longer about what kind of shows you can watch. It's now about what can you do while watching your favorite TV shows. After you learn how to unblock Amazon Fire TV, everything will change. This simple TV set will bring you to a whole new level experience in watching TV. Want to know how it works? Check out this video:
Powered by Android-based Fire OS and quad-core processor, this set-top box provides you access to more than 200,000 TV shows and movies, besides countless games and songs! All you need to do is unblock Amazon Fire TV.
Why You Need VPN Asia to Unblock Amazon Fire TV?
Besides the benefits you can find here, here are some benefits of using VPN Asia to unblock Amazon Fire TV:
We encrypt your data transmission, keep you anonymous on the web, and ensure your safety from malicious activities.
We help you bypass Amazon geo-restrictions in less than a minute
We prevent your ISP from restricting and/or redirecting your data through their DNS servers
We help you bypass online surveillance
So, have you tried unblock Amazon Fire TV? What do you think about it? What about the movies, songs, and games? Are they better than Netflix or Apple TV? Is it worth for your money? Don't forget to tell us your opinion about Amazon Fire TV. Meanwhile, if you need assistance to unblock any service, please let us know. We'll provide the tutorial just for you.